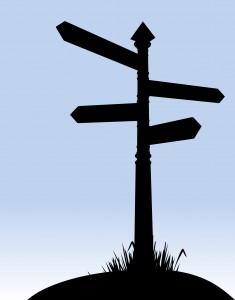 Though Kokode is situated in dense forests, it is easily accessible via multiple routes.  It is 100kms from Coimbatore, 50kms from Ooty/Coonoor and 30kms from Kotagiri.
Directions from Kotagiri:
1.From Kotagiri Donnington Bridge(Mgr Statue) take right towards Kodanad view point.
2.Around 5 Kms at Kaikatty Junction take right cross Kil Kotagiri and Sholurmattam .
3.Towards Kilkotagiri estate factory gate take left and first right 
4.Once you cross Karikoor Village take right to Bungalowpadi.
5.Take the stone road from the steep once you cross Bungalowpadi.
We have placed direction boards(like the illustration below) at all crossroads to help you reach our estate without much of a confusion. Watch out for them!